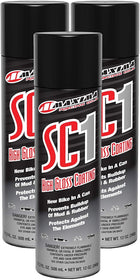 Description
Maxima Racing Oils SC1 High Gloss Clear Coat 12oz. 
Maxima SC1 "NEW BIKE IN A CAN" is a high gloss spray that rejuvenates old, faded looking bodywork. This special formula adds a beautiful luster while enhancing protection against water, dirt and mud. Simply spray on, let sit for 30 seconds and buff with a soft cloth. Treat your motorcycle to Maxima SC1 spray and it will look better than the day it rolled off the showroom floor!
Details:
Maxima High gloss SC1 Clear Coat is specifically formulated for the Powersports industry. SC1 coats plastic, fiberglass and painted surfaces. Makes the clean up process easier, excellent for use on M/C and ATV fenders to prevent mud and dirt from adhering to plastic. SC1 dries completely and is water resistant, leaving a long lasting luster without attracting dirt and dust. All while having a magnificent aroma. In fact people love the smell so much, Maxima also makes SC1 Air Freshners. Available for sale in our E Bay store!
Features:
High gloss clear coat spray
Safe for plastic, fiberglass, & painted surfaces
Prevents dirt and debris from sticking
Enhances color
Repels water
Long lasting luster
Restores old faded plastics
Pleasant scent
Silicone based