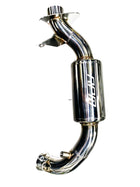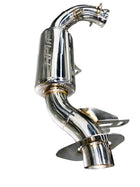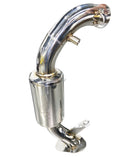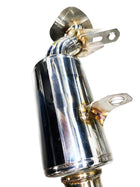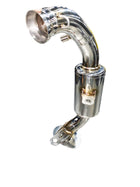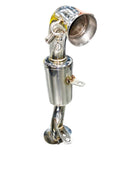 Description
RPM Stainless Steel Race Weight Muffler
RPM's Race Weight pipe is not just light weight at only 8 Lb.'s, but it also provides phenomenal increase in throttle response while providing a staggering 3HP gain. This is a full stainless muffler that is a easy installation and direct fit to the stock OEM expansion chamber. The muffler body is 4", this pipe sounds great but is by no means "quiet". Great for racing, mountain riding, or lower populated areas. Great sound, the best performance, and fantastic weight savings! What more could you ask for!? 
Fitment: 2017-2022 Gen4 E-Tec Models
                          Features
Stainless Steel Construction
No Clutching Or Tuning Needed
3HP Gain

Light & Loud
Easy To Follow Instructions
RPM Race Weight Muffler: 5 LB's

Total Weight Savings: 11+ LB's
*Install Notes~~Sensor port extension is for SUMMIT models, extension NOT to be used for MXZ and Renegade Models.